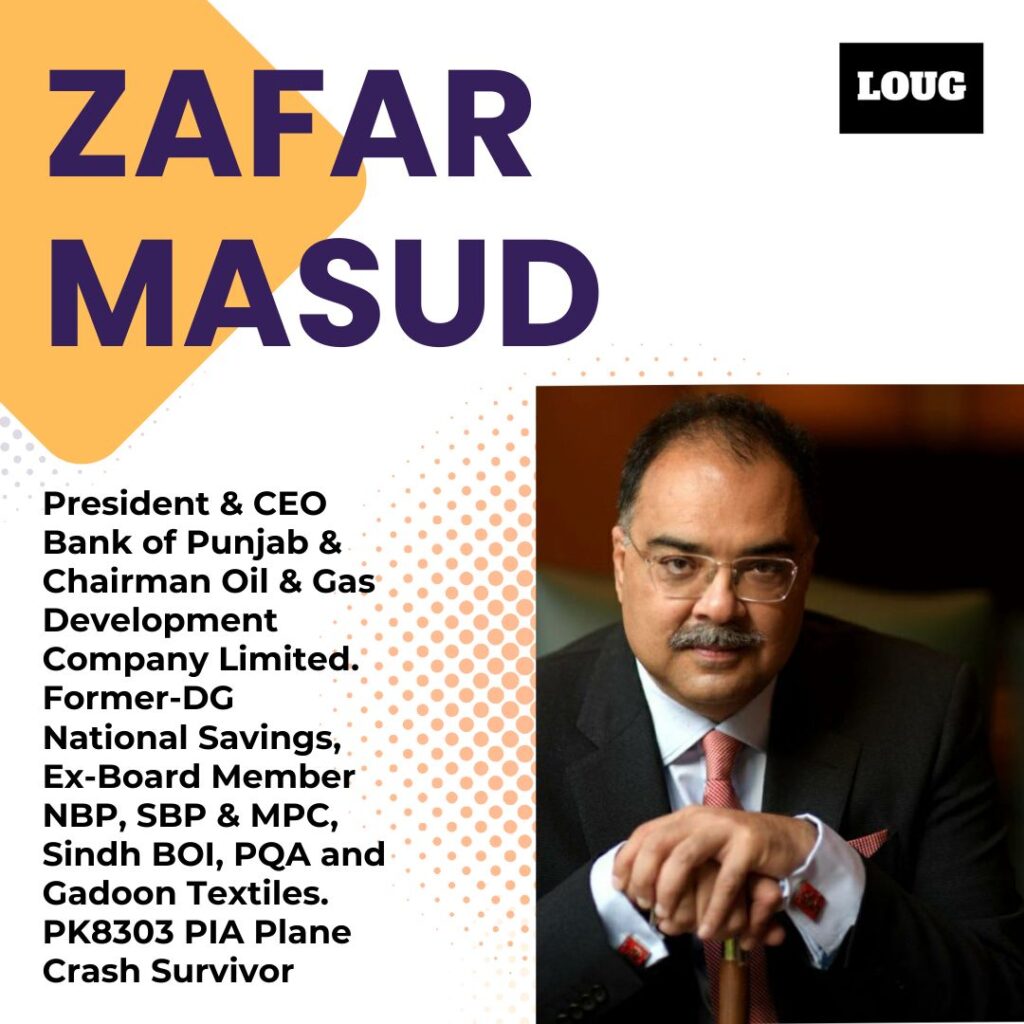 Zafar Masud Recognized by Loug
Zafar Masud's extensive and diverse work experience is indicative of his strategic acumen and ability to thrive in high-level executive roles across multiple industries.

Loug
Loug recognizes talent and wish them all the very best!
Zafar Masud boasts a distinguished career marked by prominent leadership roles. Currently serving as the Chairman of the Oil & Gas Development Company Limited – Official Page, he has held this freelance position since April 2021, demonstrating his expertise in the energy sector. Furthermore, he concurrently holds the esteemed position of President and CEO at The Bank of Punjab, a role he has undertaken since April 2020, where he showcases his adeptness in the financial industry.
His influence extends beyond the financial sector, as evidenced by his tenure as a Member of the Board of Directors and Chairman of the HR Committee at the Port Qasim Authority and GADOON TEXTILE MILLS LIMITED (Part of YBG), both of which spanned from March 2019 to March 2022. Additionally, his service as a Member of the Board of Directors at Quaid-e-Azam Thermal Power from July 2019 to July 2020 further highlights his multifaceted leadership and contributions to various organizations.
Loug — Connecting You to Inspirational Lives
Loug, a platform that celebrates the exceptional by showcasing profiles of prominent individuals who have made a significant impact in their respective fields, is dedicated to showcasing remarkable people from diverse backgrounds, sharing their remarkable journeys, achievements, and contributions.
Loug believes in celebrating the exceptional and aims to bring readers insightful glimpses into the lives of accomplished professionals, entrepreneurs, thought leaders, and change-makers. They curate the most compelling stories from LinkedIn profiles, offering a comprehensive overview of the individuals' experience, education, and key milestones.
Readers are invited to explore with Loug as they dive into the impressive careers and life stories of these outstanding individuals. They can join the community to stay updated on the latest profiles and be inspired by the success stories of those who have truly left a mark on their industries.
Loug is a gateway to knowledge, inspiration, and the extraordinary. Readers are invited to connect with Loug to be part of this journey celebrating excellence.