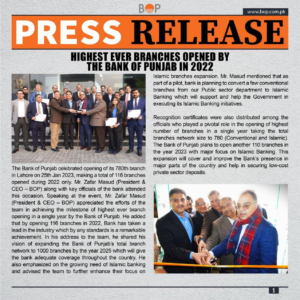 The Bank of Punjab celebrated opening of its 780th branch in Lahore Thursday, making a total of 116 branches opened during 2022 only. Mr. Zafar Masud (President & CEO – BOP) along with key officials of the bank attended this occasion.
Speaking at the event, Mr. Zafar Masud (President & CEO – BOP) appreciated the efforts of the team in achieving the milestone of highest ever branch opening in a single year by the Bank of Punjab. He added that by opening 116 branches in 2022, Bank has taken a lead in the industry which by any standards is a remarkable achievement.
In his address to the team, he shared his vision of expanding the Bank of Punjab's total branch network to 1000 branches by the year 2025 which will give the bank adequate coverage throughout the country. He also emphasized on the growing need of Islamic banking and advised the team to further enhance their focus on Islamic branches expansion.
Mr. Masud Mentioned that as part of a pilot, bank is planning to convert a few conventional branches from our Public sector department to Islamic Banking which will support and help the Government in executing its Islamic Banking initiatives.
Recognition certificates were also distributed among the officials who played a pivotal role in the opening of highest number of branches in a single year taking the total branches network size to 780 (Conventional and Islamic). The Bank of Punjab pans to open another 110 branches in the year 2023 which major focus on Islamic Banking. The expansion will cover and improve the Bank's presence in major parts of the country and help in securing low-cost private sector deposits.