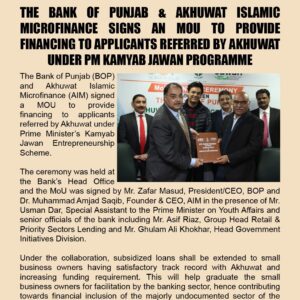 The Bank of Punjab signed agreements with Akhuwat Islamic Microfinance and National Rural Support Program (NRSP) to extend interest-free financing under the Prime Minister Youth Business & Agriculture Loan Scheme (PMYB&ALS). Through this arrangement, BOP became the first bank to provide financing under PMYB&ALS for onward lending to small business owners and agriculture sector.
Dr. Kamran Shams (CEO – Akhuwat Microfinance), Dr. Rashid Bajwa (CEO – NRSP), and Mr. Farid Ahmed Khan (Group Chief Corporate & Investment Banking – BOP) signed the agreements. Mr. Zafar Masud (President & CEO – BOP), and senior management of the entities witnessed the signing ceremony.
Speaking at the event, Dr. Kamran Shams said, "The PMYB&ALS model of offering Shariah-compliant and interest-free financing is an ideal program for upliftment of marginalized segments of the society. Akhuwat will use the program to continue its vision of empowerment and inclusion of marginalized segments of the society".
Dr. Rashid Bajwa said, "NRSP and BOP have successful track record of jointly delivering on financial inclusion projects. We are proud to be the first partners of BOP for the PMYB&ALS scheme. We will use this scheme to reach out small businesses and farmers for their economic and social upliftment.
Mr. Zafar Masud said, "We are proud to be the first bank signing financing agreements to start disbursements under the scheme. BOP has always taken the lead in Shariah-compliant and conventional financing products that are industry standards for financing to micro-lending and agriculture finance of the country. This program perfectly aligns with BOP vision of offering inclusive and socially responsible banking."
The meeting ended with prayers for success of the program.