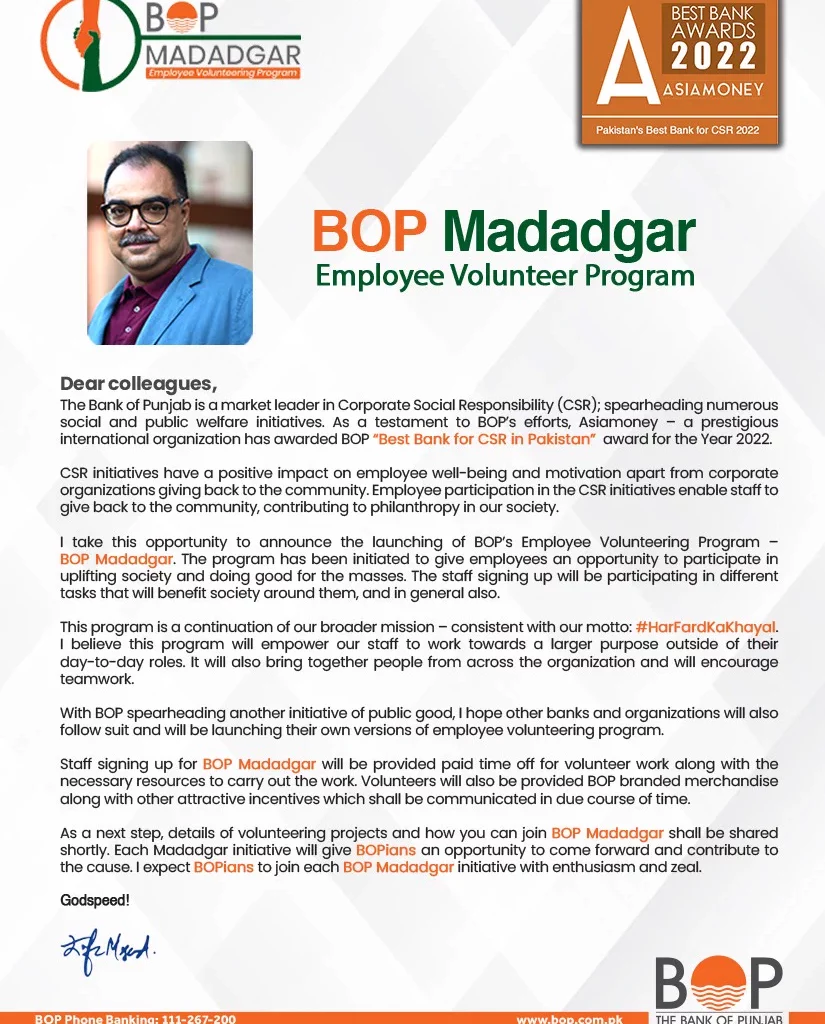 The Bank of Punjab proudly announces BOP Madadgar —Employee Volunteering Program.
In an open letter, Mr. Zafar Masud highlights BOPs Corporate Social Responsibility (CSR) efforts and that its a testament to the same that Asiamoney has awarded BOP 'Best Bank for CSR in Pakistan award for the Mar 2022.
He further says that through this program, BOP employees will be able to gain an opportunity to participate in various tasks that will contribute towards the betterment of the society.
While employees are engaged in volunteer activities, BOP shall provide its employees numerous benefits and facilities such as paid time off as well as tools, branded merchandise and other resources to conduct volunteer activities.
Details of volunteer programs shall be shared shortly.
---
Transcript of the Original Letter
September 9, 2022
BOP Madadgar Employee Volunteer Program
The Bank of Punjab is a market leader in Corporate Social Responsibility (CSR), spearheading numerous social and public welfare initiatives. As a testament to BOPs efforts, Asiamoney – a prestigious international organization has awarded BOP 'Best Bank for CSR in Pakistan award for the Mar 2022
CSR initiatives have a positive impact on employee well-being and motivation apart from corporate organizations giving back to the community. Employee participation in the CSR initiatives enable staff to give back to the community, contributing to philanthropy in our society.
I take this opportunity to announce the launching of BOPs Employee Volunteering Program – BOP Madadgar. The program has been initiated to give employees an opportunity to participate in uplifting society and doing good for the masses. The staff signing up will be participating in different tasks that will benefit society around them, and in general also.
This program is a continuation of our broader mission – consistent with our motto: #harFardKaKhayal. I believe this program will empower our staff to work towards a larger purpose outside of their day-to-day roles. It will also bring together people from across the organization and will encourage teamwork.
With BOP spearheading another initiative of public good, I hope other banks and organizations will also follow suit and will be launching their own versions of employee volunteering program.
Staff signing up for BOP Madadgar will be prodded paid time off for volunteer work along with the necessary resources to carry out the work. Volunteers will also be provided BOP branded merchandise along with other attractive incentives which shall be communicated in due course of time.
As a next step, details of volunteering projects and how you can join BOP Madadgar shall be shared shortly. Each Madadgar initiative will give BOPians an opportunity to come forward and contribute to the cause. I expect BOPians to join each BOP Madadgar initiative with enthusiasm and zeal
Godspeed!
Zafar Masud