KARACHI: The two-day 4th edition of Adab Festival ended at Frere Hall on Sunday evening after a string of sessions and musical performances.
One of the well-attended pre-lunch sessions was on the topic of 'Pakistan in the changing world order' moderated by Omayr Aziz Saiyid with the following panellists: Hussain Haroon, Taimur Rahman, Zarrar Khurho and Aitzaz Ahsan.
Senator Ahsan said that Pakistan's position should not just be analysed against the backdrop of the US-China tussle, it had other stakeholders, too, such as Europe, Russia and the Muslim world.
"We are deeply stuck in the Muslim world. We have to negotiate that. The Saudis put pressure on us on behalf of the US, they might do that more. Of course, China and the US are the dominant players in the changing world order, but the players that are not dominant are also very crucial to us. Saudi Arabia is going to be crucial to us as long as we are dependent upon oil. India is also going to be important. Europe, because for several other reasons including a very large diaspora.
The literary event attracts large crowds; Iftikhar Arif pours out his heart in a candid chit-chat
"How has the world order changed? Over the last 30 years, the world order has changed in a manner which has made China the net beneficiary, and America and Europe the net losers, particularly America. Until GATT [the General Agreement on Tariffs and Trade] there were restrictions on exporting any technology which the state had itself devised. With GATT, not only technology could be taken out but the manufacture and production of goods could be taken out and then re-imported as manufactured items. China became the greatest production factory in the world, as all brands and goods [are now] known to be 'made in China'. This 'made in China' has made China very powerful,"he said.
With respect to Pakistan, he was of the view, "We have had instability in our country… Afghanistan will remain a difficult country."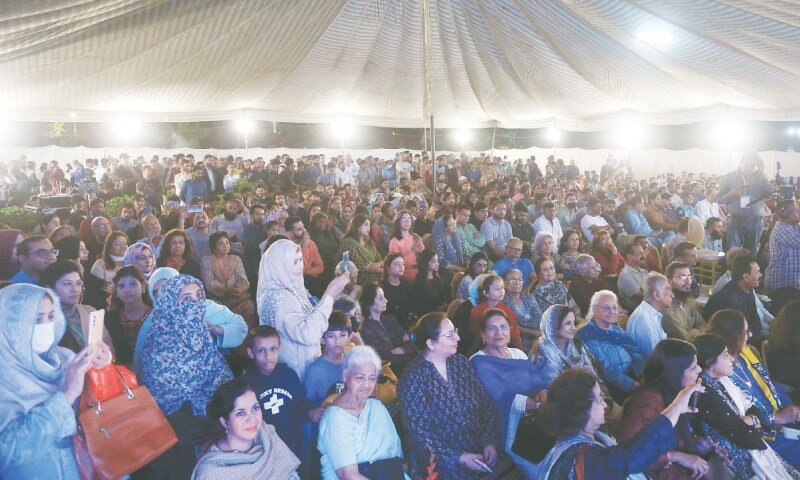 Sessions with Kishwar Naheed, Iftikhar Arif
A post-lunch session in the main garden area had poetess Kiswhar Naheed answer questions put to her by Inaam Nadeem and Kashif Raza.
An eagerly awaited session was chit-chat between poet Iftikhar Arif and journalist Wusatullah Khan.
Replying to a query on curbs and bans on writers, she said bans don't exist, they are imposed. She added in our country two types of literature, politics and culture exist. One is to do with those who come from affluent classes; the other with who belong to the middle class, who in order to move up the ladder has come down due to inflation.
Going down memory lane, Mr Arif said the first 20 or 21 years of his life were extremely difficult. When he came to Pakistan, some initial phases were difficult, too. "Sometimes our elders make mistakes for which we pay. When I was young, my parents didn't have a cordial relationship. I was their first child and had a younger sister. The parents' relationship had a huge effect on me and to date it echoes within me. When I went to perform Umrah at the age of 45, it was for the first time that I prayed for my father's soul."
The moderator also asked him questions about his ancestral place that features in his poetry. He replied that no such question was asked of Munir Niazi who had migrated from East Punjab to Pakistan. After the discussion, Mr Arif entertained the audience by reciting his brilliant poetry.
Aliya Iqbal-Naqvi's conversation with the Oscar-winning film-maker Sharmeen Obaid-Chinoy also turned out to be a fruitful one.
Ms Chinoy, in response to a question about her Patakha Pictures' funding young film-makers, said, "I have been lucky in the journey that I have taken but how are we creating the next generation of storytellers in Pakistan. Who is funding them? Who is mentoring them so that long after we're gone, they're carrying on the mantle? And that is what gave birth to Patakha Pictures. It's a funding and mentorship programme for female film-makers and we're about to expand that to male film-makers as well."
'It's time to change class system'
In the concluding session, the founder of the festival, Ameena Saiyid, said after co-founder of the event Asif Farrukhi's death, she felt bereft; but ever since Shama Askari, the director of Adab Festival, has been a pillar of support for her.
Shama Askari thanked the team that helped her put together the fourth iteration of the festival and said she's proud to have worked with Ms Saiyid.
Two keynote speeches were delivered on the concluding day.
The first was by Zafar Masud, CEO of Bank of Punjab. He said he was heartened to see a large number of visitors to the festival. "Appreciation of art is taking root." He also stressed the need for arranging such events in smaller cities. After that he read a paper which he said was part of his thesis on literature and the economy.
Arifa Syeda Zehra was the second keynote speaker.
She said literature provides us with answers to questions that are otherwise hard to find. Taking a leaf out of Mr Masud's book, she argued that seasons have begun to change. "But it's also time to change things such as injustice and the class system that exists in education."
She talked about the importance of the mother tongue as well.
The last three items on the programme list were performances by Laal band, rapper Kaifi Khalil, a tribute to Nayyara Noor by Rosemary Mushtaq and a kathak dance by Shayma Saiyid.
Published in Dawn, November 28th, 2022